In today's busy world, it is easy to forget how important meeting with peers can be and the power of sharing and learning new information and connecting to other people who are actively training, experiencing the same issues, feeling the same pain points, and sharing in your successes; you are not alone! Active members of the PDS UGA enjoy the benefits of this collaborative learning and much more.
Despite this, it can be surprisingly easy to talk yourself or your organization out of committing to the PDS conference every 18-months.
"Too busy." "Too expensive." "I have too much work to do!"
To capitalize on being an active Vista User, you need to be engaged and participate in your PDS UGA Community. This doesn't necessarily mean joining or nominating yourself to be on our "magnificent" Steering Committee, but maybe it includes (though not limited to) attending the PDS UGA conference, reading or writing a PDS Blog article, attending a PDS or PDS partner-sponsored webinar, or interacting on social forums. For instance, you can join our LinkedIn PDS Vista Group and follow us on Facebook, Twitter, and LinkedIn to stay on top of PDS and industry news.
Your level of participation in these learning opportunities directly impact your results and your overall experience of PDS and your Vista product.
So, as the new year kicks off, I ask of you to think about the resolution of investing in learning and consideration of the PDS UGA conference:
Learning opportunities. No matter how experienced you are, or how long you have been in the industry, everyone can learn something new. In fact, as HCM professionals, you should be leading the charge and modeling behavior to encourage other people to deeply explore their own professional development. One can feel isolated without exposure to a variety of points of view; get yourself out there and never miss new ideas and trends that can impact future results.
PDS, like many vendors, introduces new features, releases, and products at their user conferences. We love giving our current and almost-customers first views of new offerings. Most of these new features are directly inspired by customer feedback.
Becoming acquainted with new company strategies from our "magnificent" leadership – Pat Palmer, CEO on center stage is a fun way to learn. Feel her passion for the Vista Solution and her excitement to have you use it. Become acquainted with new features in conference sessions and workshops full of other users and enthusiastic PDS subject matter experts.
You can ask questions, digest the new upgrade/product information without any pressure, and provide PDS experts with your vital feedback.
Ask yourself, do you really know everything about the software? With the constant addition of new functionality, it's hard to keep up. Attend Demonstration sessions just to verify that you haven't forgotten anything from your training and aren't overlooking key features in your implementation.
Networking with peers. Training-focused conferences, like the PDS UGA, provide a great opportunity to network. Collaboration is the way forward to bring new, fresh, and innovative practices to your businesses. Saying that you don't have time to network and meet new people is like not having time to put gas in your car. Eventually, you will run out of gas, stall and become stagnant. Look to others to uncover ideas and spark inspiration.
Leverage the knowledge and expertise of key PDS staff – Talking with PDS leadership: Sales, Product Development, Customer Support, Professional Services and Technology can provide you with insights you can't get any other way. More importantly, you can personally hand-deliver your own feedback! What's the one "fix" or improvement you want to see in the next release? Here's your chance to share with the people who can make things happen.
Be the expert. When you are active in the PDS UGA community, you can develop a reputation as an expert to your peers. By increasing your knowledge of Vista, you can continue to build upon becoming the subject matter expert at your company. You may also want to be a business partner with PDS. PDS appreciates when our customers are engaged and interacting with us! Be the person who comes up with the next great idea for Vista. You won't get there unless you leave your office and go to a gathering of like people where you can be heard and inspired.
It's fun. Of course, the PDS UGA is being held at a magnificent venue promoting engagement and fun. The conference does balance the importance of networking (social) with learning. Take advantage of the spirit and the energy generated at the conference; EMBRACE IT. The PDS UGA Conferences have a special networking (brainstorming session) and meet-up nights. Meet someone new! Laugh. Never underestimate the power of a little fun mixed with some interesting people!
The truth is, conferences are more important than ever. The value in conferences comes from the human connections that occur. Many people tell me the unexpected "hallway conversations" they have with other attendees is the most valuable part of attending an event. It's not uncommon to start a conversation at lunch only to have it carry on through the afternoon. People sharing stories, best practices, and different things they have learned. It is the people who bring value to your conference experience.
At the end of the day, attending the PDS UGA conference on your organization's dime must be about increasing their ROI. Attending a conference that has the dual outcomes of increasing your personal skill sets and increasing the value of your company's software investments sounds like a win-win to me.
I share with you 7 Magnificent Facts to gain fast approval. I hope to see your there!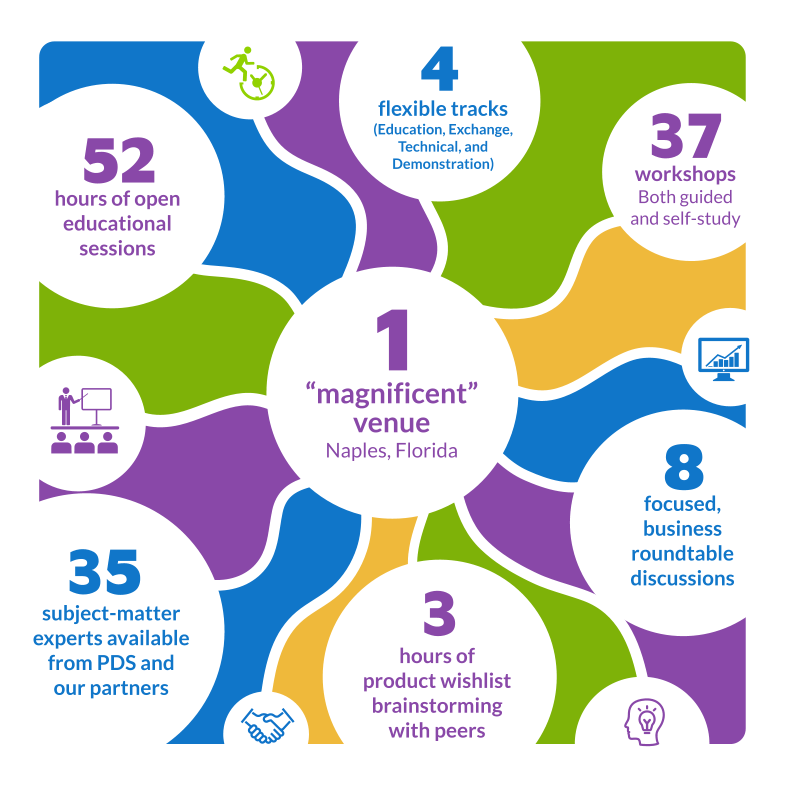 Daniel J. Price
Regional Sales Manager
dprice@pdssoftware.com