Human Resources with You at the Center
The Vista® Human Resources component provides the tools to streamline the management of your employee population, using the latest technologies.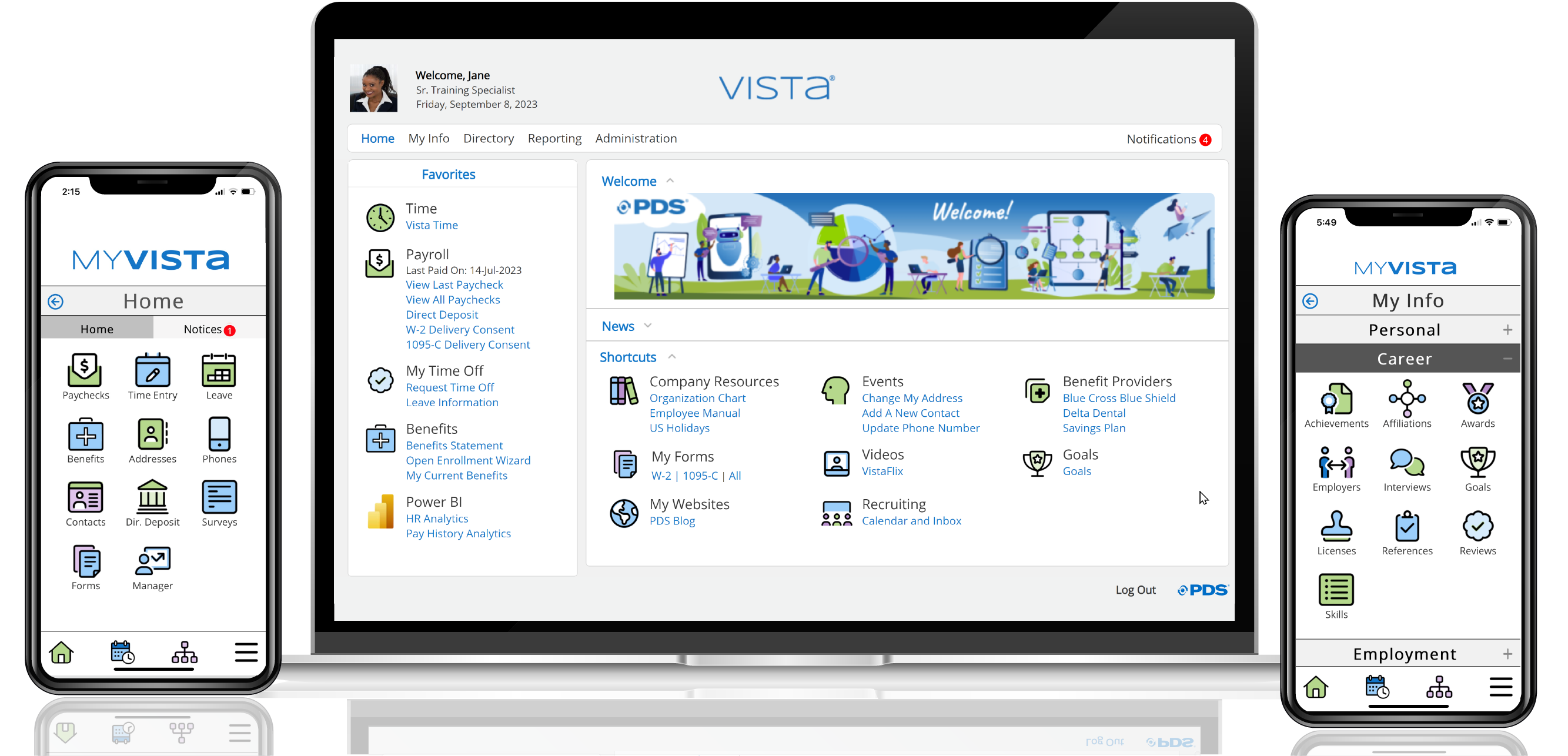 HR Features to Make Your Job Easier
Your employee data is the heart of your corporate knowledge base. Vista Human Resources unleashes the power to make that data strategic. Within Vista, you create and maintain an organized database of employees, applicants, jobs, and positions. The product's flexibility allows you to structure your corporate data as simply or as complicated as your business needs require. Vista Human Resources key features include:
Complete HR administration
Recruiting
Onboarding
E-Verify integration and automation
Engagement and employee experience
Position management and budgeting
Compensation management
Learning management
Performance management
Succession planning
Vista Human Resources integrates recruiting, onboarding and HR administration into this single component. We've streamlined the process of finding applicants, getting them hired and quickly delivering the tools to allow them to engage with others.
Other Vista features that empower the HR team include:
Intuitive employee and manager self-service
Workplace safety and risk management
Competencies and skills
Licenses, certificates and achievements
Performance management with employee self-reviews, and manager and peer reviews
Salary and wage administration
Extensive historical tracking
Vista gives the entire HR team the tools to easily configure and manage HCM policies, automate administrative tasks, better communicate with their staff, and use reports and analytics to better analyze results.
Vista also offers:
Deploy access via mobile devices
Integrate Electronic signatures
Workforce communications via email or text
Standard reports and English-language query tool
Users view report data for only their employees
Dashboards of actionable analytics
Accessible and secure document management

What Our Customers Say
"What I like best about Vista is the ease of deployment and use, their outstanding functional and technical consulting expertise, customizable/icon-driven self-service pages, manager dashboard and analytics, and the security features."

– Carrie Meier, Idaho State Insurance Fund
Want to know more about our human resources offerings?
We're ready to talk to you.
Contact PDS Today