Have you taken a few minutes to review your organization's generational breakdown? A multi-generational workforce can be an asset by offering diversity and breadth of experience. Vista Analytics helps us monitor the generational breakdown of our organization and plan accordingly based upon their needs.
Here are a few interesting facts (Source: Vistage Corporation Multigenerational Workforce Workshop as summarized by Jamie Thompson, Barron Collier Companies) on the millennial generation:
Millennials make up the second-largest generation after Baby Boomers.
Millennials are technology natives. Their cribs had more technology in them than the Mars Rover.
Millennials will be the next generation of leaders.
Millennials stay in a job approximately less than 1.8 yrs. if they are not happy. #1 reason they quit: the Boss. #2 reason: poor company culture. Salary is not a factor of importance to them, happiness is.
Millennials have "side-hustles." (E.g., have a dog-walking business, Uber driver at night, and sublet apartments.) So, if they lose one job, they have others to fall back on until finding a new one. Job-hopping on their resumes is the norm and should not be dismissed as a negative factor. They are not job-hoppers, but rather boss-shoppers.
Millennials have a work ethic that values relationships. They prefer a workplace that creates opportunities for meaningful connections between coworkers. This also applies to "the Boss;" millennials prefer a supervisor that has a genuine interest in their professional and personal development.
Businesses must learn to adapt to attract millennials and retain them for business to survive and thrive.
Forbes magazine suggests these steps regarding millennials in the workplace:
Create a rare opportunity for each
Offer flexible schedules
Let your brand story do the work
Make them feel irreplaceable
Use the latest technology tools
Focus on their professional development
Make sure your values align with their goals
Offer interesting work and autonomy
Make their career progression a focus point
Offer more than just a salary
Set yourself apart, talent will follow
Create dedicated Intern programs
Vista Analytics will allow instant insight into how your organization is ranked generationally. Below is a simple analytic we are using to help us get understand our company's generational breakdown: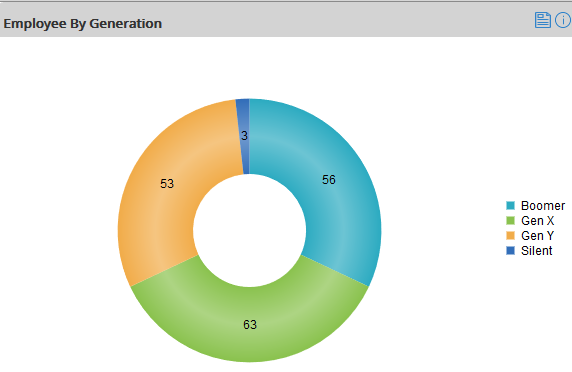 This is just one example of how Vista Analytics gives insight into our organization, if you've been wanting to more at your company, email PDS Services to get started.
David Shapiro
IT Director
Barron Collier Companies