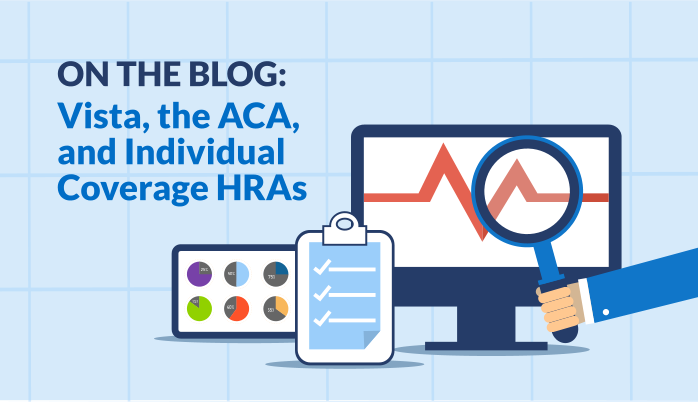 If you are considering offering your employees an Individual Coverage HRA (ICHRA) to fulfill the Affordable Care Act (ACA) employer healthcare mandate, know that Vista manages this very easily, with minimal changes to your plan setup and day-to-day operations.
If you're not familiar with Individual Coverage HRAs (ICHRAs) you can refer to the IRS site or Healthcare.gov for specifics, but here is a short summary.
---
Starting in 2020, instead of having to offer full-time employees healthcare coverage directly, employers are allowed to tell the employee to go to the ACA Healthcare Individual Exchange Marketplace and choose their own coverage. The employer would then reimburse the employee some fixed amount to cover the employee's cost—this is an ICHRA. (In Vista, this reimbursement would generally be handled as a payroll fringe benefit.)
According to the IRS rules, if the employer reimburses the employee enough, then the employer is considered to have offered affordable health coverage. To qualify as "enough", you find the lowest cost ACA "Silver" plan for individual-only coverage based on the person's age and zip code. Then subtract from that the employer's reimbursement. This residual amount is now considered the employee's cost, and it is compared to the Federal Poverty Line no differently than the employee's deduction cost would be compared for a regular ACA healthcare plan.
---
To manage your ICHRA offerings within Vista, simply set up your ICHRA "plan" as you would any other ACA benefit plan with the following modifications:
Select the "ICHRA" checkbox when setting up the plan.
If you wish to offer different reimbursement amounts to different classes of employees (as allowed by the IRS), then set up options for each, assigning each its own appropriate eligibility rules.
Decide whether, by default, you wish to find the marketplace lowest cost individual Silver Plan cost using the employee's home ZIP code or the employee's primary work location's ZIP code. (You can also add exceptions on an employee-by-employee basis.)
For typical medical plans, you would define employee payroll deduction calculations to feed Vista's ACA affordability determination. But for an ICHRA, you don't deduct from the employee's paycheck; rather, you reimburse them. So, you would set up a fringe calculation for an ICHRA.
For each plan year, make sure that you have the correct mappings between your chosen ZIP codes (either the employee's primary work location or their residential addresses) and ACA Marketplace costs for each employee.
This might be the trickiest part of your entire process. PDS preloads ACA Marketplace Silver Plan lowest costs by ZIP and age for each year, as provided by the Federal government's Center for Medicare and Medicaid Services (https://www.cms.gov). However, that data is not always complete. (If an Exchange does not have its information ready by the time CMS is ready to publish, that might be missing from the annual publication.) If this is the case, though, Vista provides you with the ability to enter the missing information that you can get directly from the relevant Exchange.
As part of ACA processing, Vista will automatically match up ICHRA-eligible individuals with the correct marketplace lowest cost (via a new Benefits/ACA processing job). If it is unable to do so—either because the marketplace cost is missing or because the employee has a non-validated address—then Vista's Issue Detective will alert you to the employees/costs you must handle as exceptions. (And note that as part of this process Vista supports the IRS Safe Harbor allowing employers to use the prior year's cost information for this purpose.)
Once you have your plans set up and your Marketplace lowest cost matches completed, then Vista handles everything else for you—up to and including delivering the updated 1095-Cs to employees and creating your 1094-C filings for the IRS and the relevant state Departments of Revenue.
If you have any questions on Vista Benefits and ACA Management, or ICHRA functionality in particular, contact your PDS Support representative.
Marco Padovani
Senior Development Manager | PDS
mpadovani@pdssoftware.com