Benefits Built for You
Implementing Vista® as your system of record eliminates the need to purchase and integrate stand-alone systems to manage your workforce.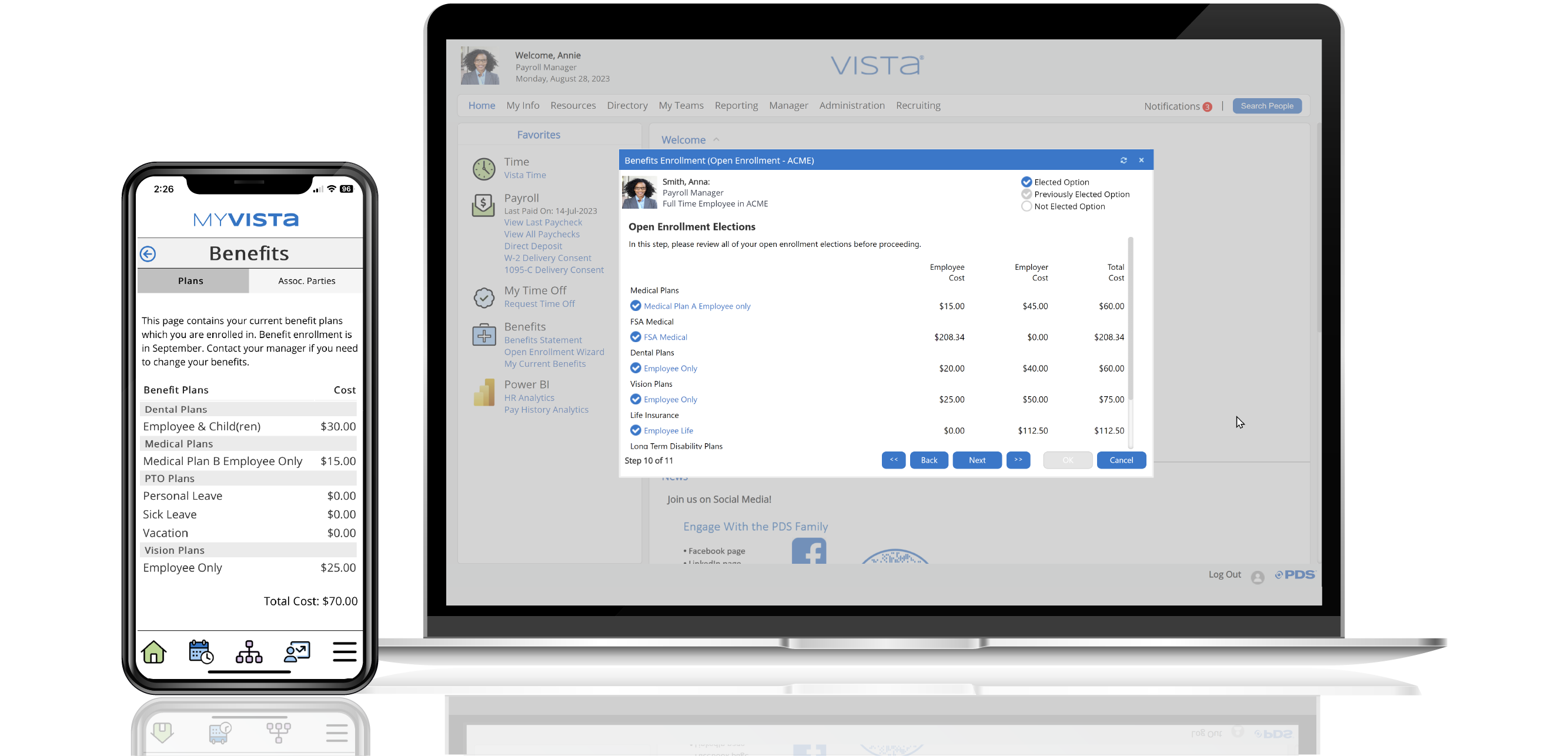 Benefits Features That Make Your Job Easier
Our benefits features are built for you and put you at the core of everything we do. Whether you're looking for unlimited plans and coverage levels, automated benefits eligibility, auto-housekeeping of valuations and premiums, or more, the Vista Benefits component will bring you and your team peace of mind. A sample list of features includes:
Complete benefits administration
Automated eligibility and enrollment
Enrollment wizard that guides employee selections
Open enrollment processing
Benefit enrollment management (current and open)
Benefit employee communications
With Vista Benefits, you'll also get:
Unlimited plans and coverage levels
Dependent and beneficiary maintenance
Affordable Care Act (ACA) administration
Leave time accrual and tracking
FSA/HSA Account Administration
COBRA eligibility
Life event enrollment
Employee wellness
Benefit statements
FMLA management
Reporting of employer benefit costs
Integrated EDI 834 reporting
Mobile access for remote employees and managers
Dashboards of actionable analytics
Electronic signatures
Extensive processing tools:
Pension processing
Open-enrollment processing
Future enrollment
Tax deferred processing
Tax deferred matching
Complete Affordable Care Act processing

What Our Customers Say
"Problem: Our benefits were set up a long time ago and hadn't been updated to take advantage of the new features and requirements. Our experienced staff had never been formally trained and the newbies needed to learn the basics.
Solution: PDS Benefits training! The instructor was very thorough and knowledgeable, and everyone learned a lot, including our experts. We're making time-saving changes to our setup and processes. It was so successful that we're scheduling both payroll and HR training next. Time to get them refreshed and up to date, too. We've learned that even though you know Vista and use it every day for years, there's still a great deal to be gained from PDS training."
– Marcia E. Fenton, Lee County Clerk of Courts