Self-Service Built for You
Whether your workforce accesses Vista® through a computer during the day, uses a mobile phone or tablet, or even has access to your secured site from their home computer — you can use Vista to empower your staff.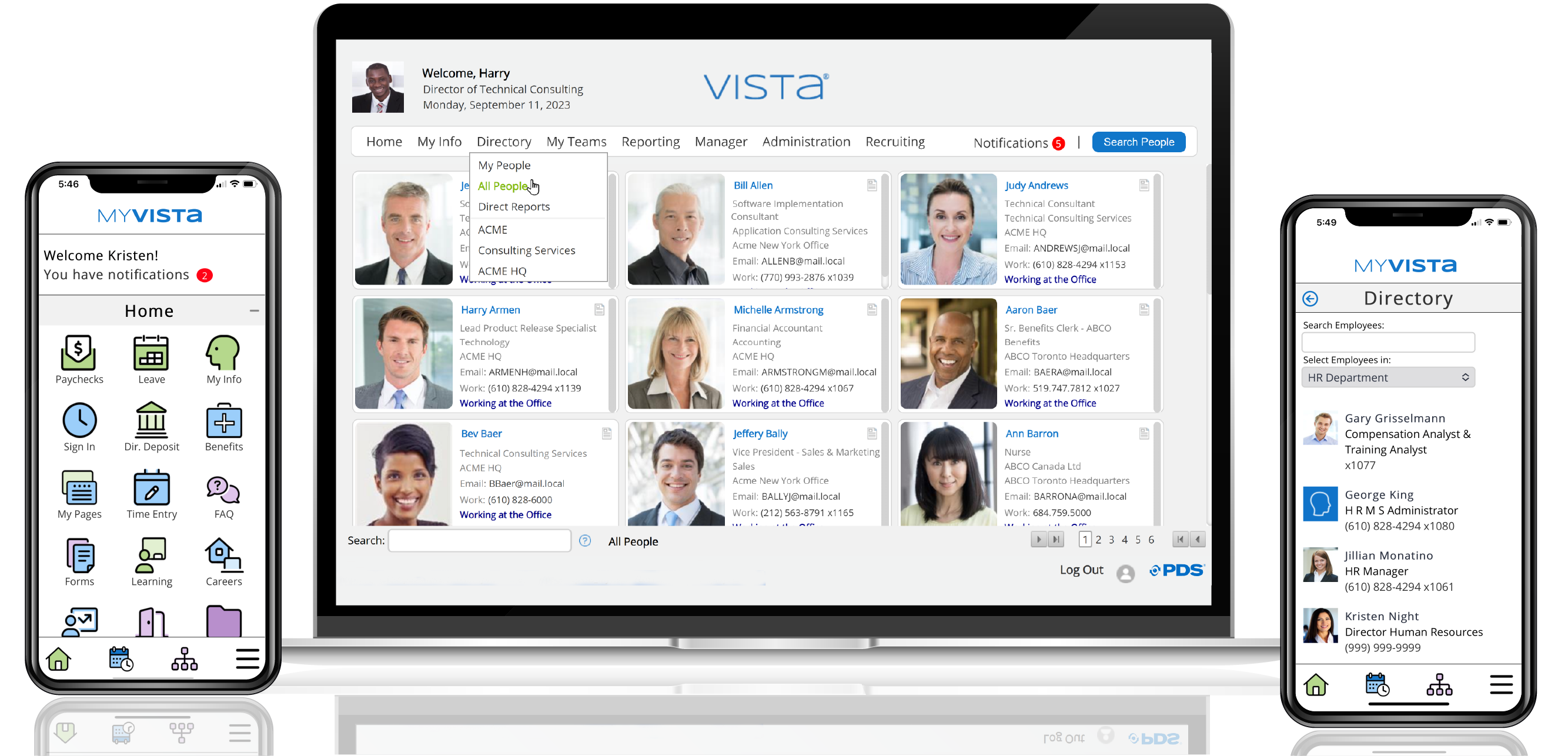 Self-Service Features That Make Your Job Easier
Our Self-service features are built for you and put you at the core of everything we do. Whether you're looking to offer a portal where your employees access company news, calendar events, and a company directory, or provide employees with Vista secured access to their data with features such as:

Empowering your employees by giving them self-service access to information they need (e.g., pay advices, W-2s, or T4s)
Allowing employee self-service access to data that you then review and approve (e.g., personal data, leave requests, time entry)
Guiding employees through their election process with a benefits enrollment self-service tool, providing guidance every step of the way
Providing managers with self-service access to the activities they need (e.g., reports, job openings, time-entry approval)
Advertising your open jobs using the Job Center and leveraging the talent of your own employees
Allowing employees to quickly view their own talent profile, update their information when necessary, and even apply for job openings
Mobile access for remote employees and managers
Dashboards of actionable analytics
Deploy as Much Self-Service Content as You Choose
Define "user roles" with their level of access (inquiry, update, no access, or approval required)
Configure approval steps as needed to match your process workflow
Notify participants of actions and optionally include attachments
Don't Have a Company-wide Intranet Already?
Vista includes a portal to promote company information. You're provided with the means to easily add and manage content. Individual departments can also post their own information (e.g., simplify sharing links to benefit carriers' websites).

What Our Customers Say
"We needed an integrated, in-house system to handle our HR, payroll, and benefits functions. Vista was the only enterprise system that truly met all of our needs."
– Meribeth Carter, Director of HR Operations, Norton Rose Fulbright U.S. LLP