Recruiting Built for You
Streamline your recruiting process using the Vista® Recruiting component. Using the infrastructure within the Vista Human Resource application, recruiters will find it easy to manage their requisitioning process while leveraging the pre-defined organization structure.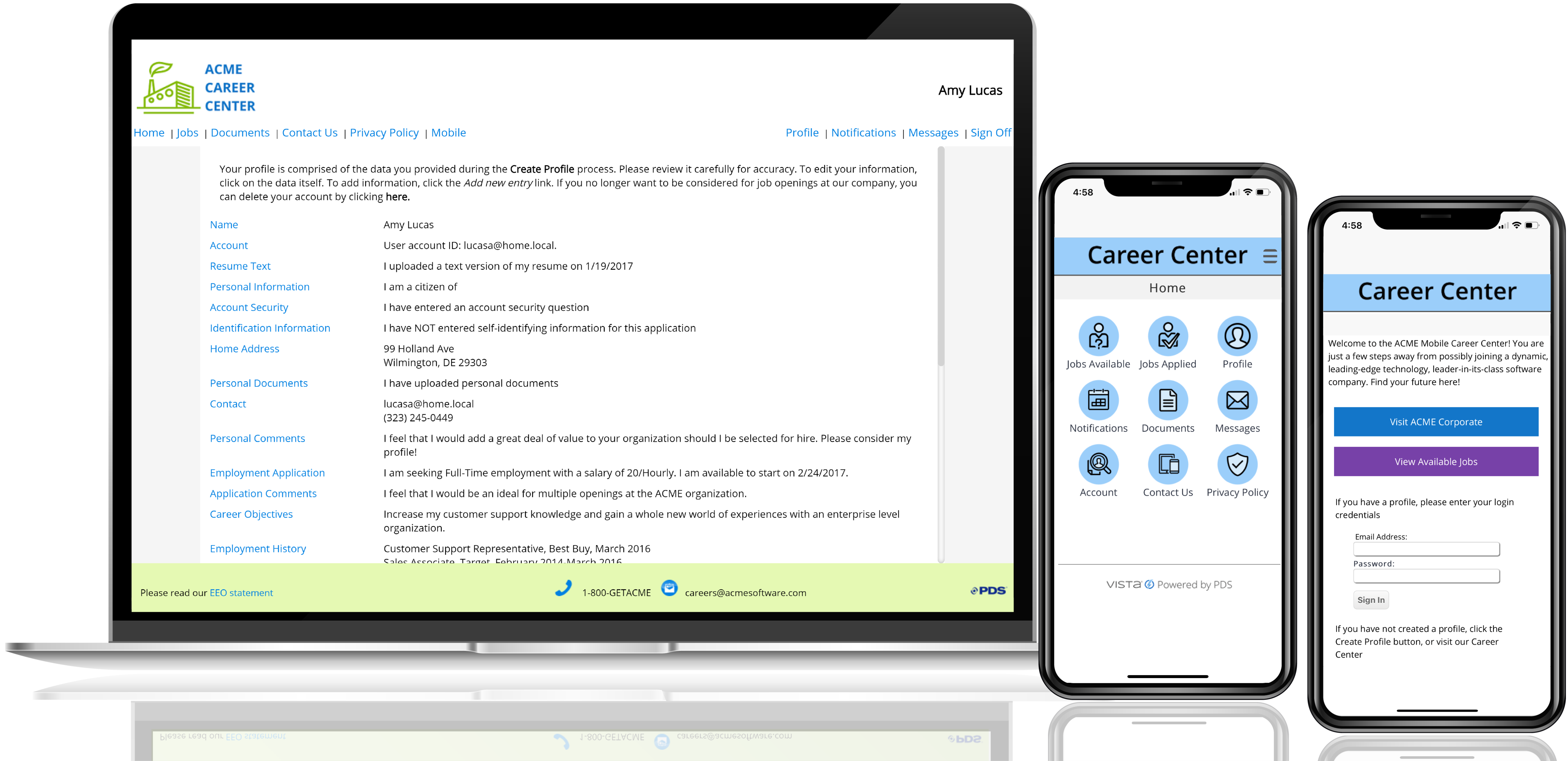 Recruiting Features That Make Your Job Easier
Capturing and effectively tracking recruiting data is vital to the success of your company. Vista Recruiting is easy to use and maintain and presents critical applicant information in an efficient and useful manner for both human resources professionals and hiring managers, alike.
Vista Recruiting gives HR departments complete command over the entire hiring process for each department in every location while more easily tracking and controlling costs, improving applicant management, strengthening relationships with applicants, and reducing paperwork for the HR team.
Key Vista Recruiting features include:
Integrated HR & Recruiting platform where you manage from "recruit to hire"
Promote openings internally and externally
Recruiters can easily qualify candidates using criteria that you define (e.g. skills, education, licenses, qualifying questions)
Applicant ratings automatically scored by the Recruiting Portal based on user defined qualifications for each requisition
Involve HR and Hiring Managers in the recruiting process as needed based upon your practices
Schedule and track interviews, offers, and expenses
Recruiting integrations available to provide communication directly between Vista Recruiting and the Indeed/Career Builder job board websites
Posting capabilities directly out to Indeed/Career Builder job board platforms without leaving Vista
Vista Recruiting is all about ease-of-use, starting with your applicants themselves. This component allows you to gather applicant data via a personalized extension to your corporate website and provide applicants access to the Vista Recruiting Applicant website. Applicants can view your open jobs, descriptions and qualification requirements.
Vista Recruiting Applicant website includes:
Guiding new applicants to your personalized Recruiting portal from your corporate website
Recruiting portal provides an intuitive platform where users can build their unique applicant profile, attach critical documents, search for jobs, and easily apply
Applicants can build profile and apply with ease from their mobile device
Applicant documents easily transfer to new employee record upon hire
Translation tools for multi-lingual usage

What Our Customers Say
"Change is constant and PDS is doing a great job of trying to keep up with the ever changing world of Human Resources."

– Ciera Garrett, Boyd Company