Onboarding Built for You
The Vista® Onboarding provides an opportunity for all businesses to do more to ensure that new employees become productive and satisfied members of their staff. Onboarding helps you consistently and efficiently convert new hires into engaged, empowered, productive employees.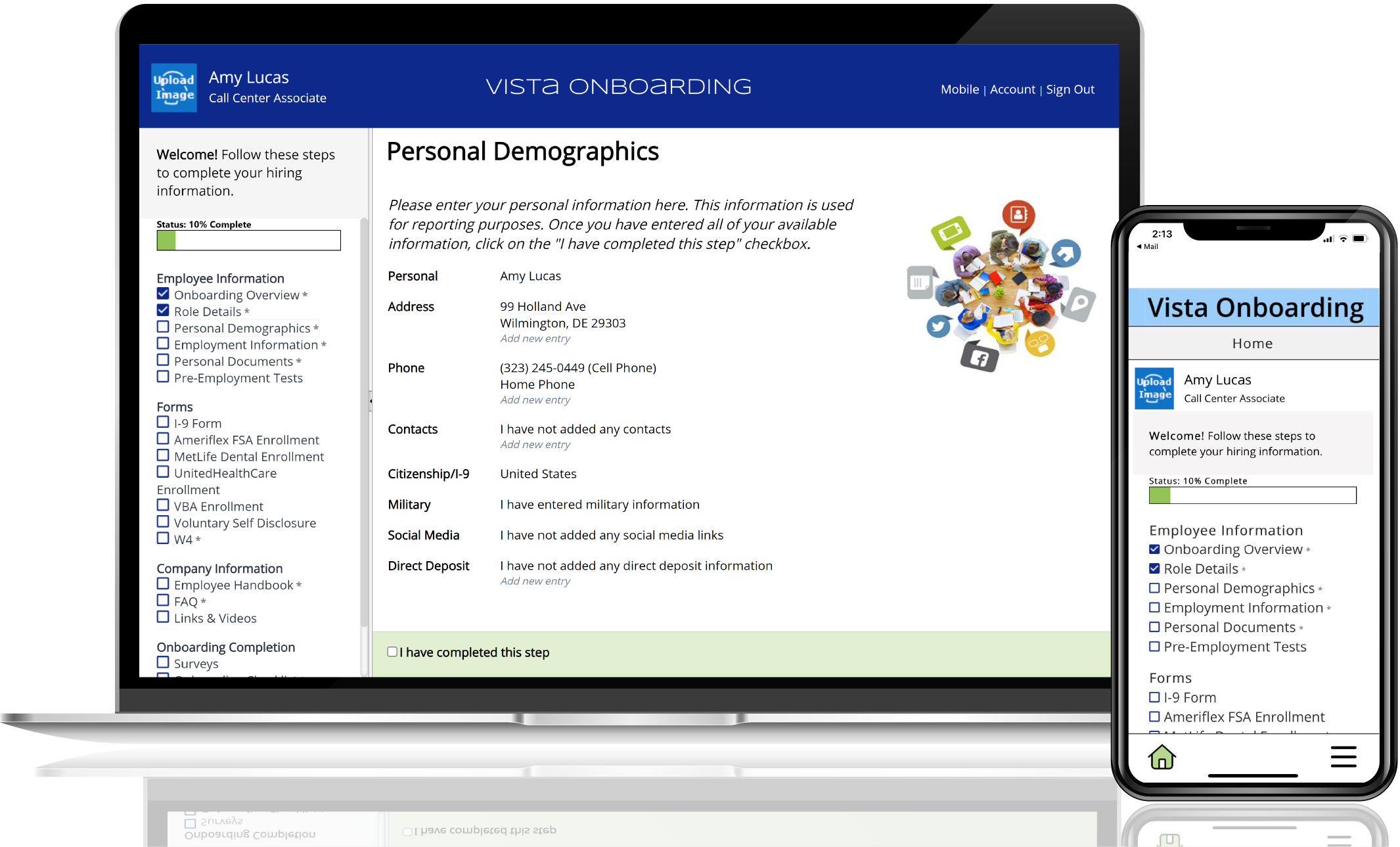 Onboarding Features to Make Your Job Easier
Vista Onboarding provides your company with tools that allow you to introduce new employees to the organization and the company culture and begin to help them feel comfortable. With easy configuration you can provide employees with a virtual checklist of to-do items, an FAQ's page, and your own organization content. You'll be able to easily embed a virtual version of company documents, details of their job responsibilities, and using Adobe Sign™ or DocuSign™ integration, have new hires electronically sign documents (i.e. various HR, benefit, and payroll forms) that are needed prior to starting.
The Vista Onboarding framework also leverages other useful Vista tools that you may use during onboarding, such as tests and surveys. HR administrative users can easily manage pending new hires, view where they are in their onboarding checklist, communicate reminders, and assist where appropriate. 
Key employer onboarding features include:
Welcome new employees using Vista Onboarding
Provide a unique new hire login
Educate pre-hires on your corporate culture
Configurable pre-hire checklist
Identify new hire forms that must be collected
Collect additional personal information for new hires
Simple visibility into new hire progress on their tasks
Make the new hires first day more productive!
Onboarding reports and analytics
E-Verify automation
Vista Human Resources integrates recruiting, onboarding and HR administration into a single component so that your data is accessible!

What Our Customers Say
"Change is constant and PDS is doing a great job of trying to keep up with the ever changing world of Human Resources."

– Ciera Garrett, Boyd Company